Apple iPad Pro M1 12.9″ 128GB price in Kenya
KShs160,000 (-11%)
iPadOS
Liquid Retina XDR display
128 GB storage: Perfect for saving pretty much everything
Battery life: Up to 10 hours
Compatible with Apple Pencil (2nd generation) / Magic Keyboard / Smart Keyboard Folio
Description
iPad Pro and M1. Power couple.
M1 chip.
With M1, iPad Pro is the fastest device of its kind. It's designed to take full advantage of next‑level performance and custom technologies like the advanced image signal processor and unified memory architecture of M1. And with the incredible power efficiency of M1, iPad Pro is still thin and light with all‑day battery life, making it as portable as it is powerful.
Faster performance and graphics.
The 8‑core CPU of M1 delivers up to 50 percent faster performance. And M1 has an 8‑core GPU in a class of its own, providing up to 40 percent faster graphics performance to iPad Pro. So you can build intricate AR models, play games with console‑quality graphics at high frame rates, and more.
12.9"
Liquid Retina XDR display. Best and brightest.
Extreme dynamic range comes to the 12.9-inch iPad Pro.2
The Liquid Retina XDR display delivers true-to-life detail with a 1,000,000:1 contrast ratio, great for viewing and editing HDR photos and videos or enjoying your favorite movies and TV shows. It also features a breathtaking 1000 nits of full‑screen brightness and 1600 nits of peak brightness. And advanced display technologies like P3 wide color, True Tone, and ProMotion.
1000 nits  full-screen brightness
1600 nits  peak brightness (HDR)
True Tone for comfortable viewing
1,000,000:1  contrast ratio
ProMotion
adaptive 120Hz refresh rate
P3 wide color gamut
Powered by over10,000 mini‑LEDs
Mini‑LEDs.
To achieve extremely high brightness, we used an array of LEDs across the entire back of the display. To fit them in the incredibly thin iPad Pro, we used custom‑designed mini‑LEDs that are 120 times smaller than the previous generation. And custom optical films and diffusers mix the light more efficiently so it can fit in a design that's just 6.4mm thin.
Mini‑LEDson iPad Pro
2500 
local dimming zones
Local dimming zones.
Over 10,000 mini‑LEDs are grouped into more than 2500 local dimming zones. Depending on the content, the brightness in each zone can be precisely adjusted to achieve an astonishing 1,000,000:1 contrast ratio. Even the most detailed HDR content with the finest specular highlights — like galaxies and action movie explosions — are more true to life than ever.
11"
Liquid Retina display.
Pixel‑perfect portability.
Easy on the eyes. Easy to carry.
The Liquid Retina display on the 11‑inch iPad Pro is not only gorgeous and portable, it also features incredibly advanced technologies.2 Like ProMotion, True Tone, P3 wide color, and ultralow reflectivity, which make everything feel responsive and look stunning.
600 nits peak brightness
True Tone for comfortable viewing
ProMotion adaptive 120Hz refresh rate
P3 wide color gamut
5G
Fast friends.
Blazing‑fast connection.
iPad has always been uniquely portable with superfast Wi‑Fi and cellular options. Now with 5G capabilities, you can connect to the fastest wireless networks when you need to download files, stream movies, collaborate with colleagues, and upload content on the go. And iPad Pro has the most 5G bands of any device of its kind — so it can get 5G in more places.3
Wi‑Fi 6.
Fast wireless connections are critical to getting things done. With Wi‑Fi 6, rest assured that you've got the fastest Wi‑Fi available.
Cameras.
You'll want to turn your video on for this.
Ultra Wide camera with Center Stage.
iPad Pro features a new Ultra Wide camera with a 12MP sensor and a 122‑degree field of view, making it perfect for FaceTime and the new Center Stage feature. It's also great for epic Portrait mode selfies. And it works with the TrueDepth camera to securely unlock iPad Pro with Face ID.
12MP Ultra Wide camera
TrueDepth unlocks iPad with Face ID
Center Stage.
The all‑new Center Stage uses the Ultra Wide camera and machine learning to change the way you participate in video calls. As you move around, it automatically pans to keep you centered in the frame. When others join in or leave the call, the view expands or zooms in. Center Stage works with FaceTime and other video conferencing apps for an even more engaging experience.
Wide camera
Pro cameras.
Wide and Ultra Wide cameras help you capture the perfect photo or video, or even set up a multicamera filmmaking rig. And with the more powerful ISP in the M1 chip, iPad Pro now features Smart HDR 3.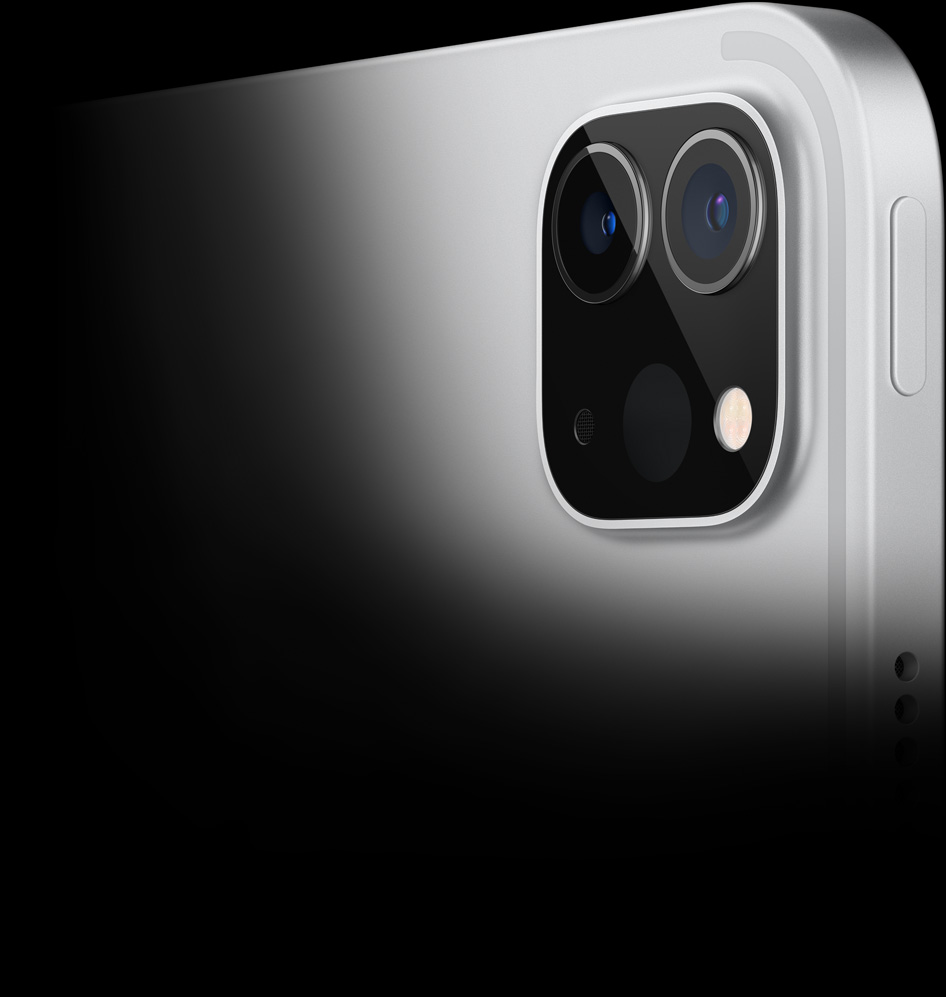 12MP Wide camera
LiDAR.
The LiDAR Scanner measures how long it takes light to reflect back from objects, so it can create a depth map of any space you're in and unlock immersive AR experiences. And it works with the powerful ISP to more accurately focus images and videos in low‑light conditions and reduce capture time.
Thunderbolt.
A port that's ready to rumble.
For powerful creative workflows.
Now with Thunderbolt, this is the fastest, most versatile port ever on iPad. It works with existing USB‑C connectors and opens up an extensive ecosystem of high‑performance accessories for iPad Pro — like fast external storage, displays, and docks. Transfer huge assets or even drive the Pro Display XDR at full 6K resolution.
Up to40 Gbps
bandwidth for wired connections
Magic Keyboard. Apple Pencil.
Endless possibilities.
Pro accessories.
Apple Pencil, Magic Keyboard, and the Smart Keyboard Folio open up even more ways to use iPad Pro. Draw a masterpiece, take notes, or knock out a business plan. These versatile accessories are designed to take your work and creativity to the next level.4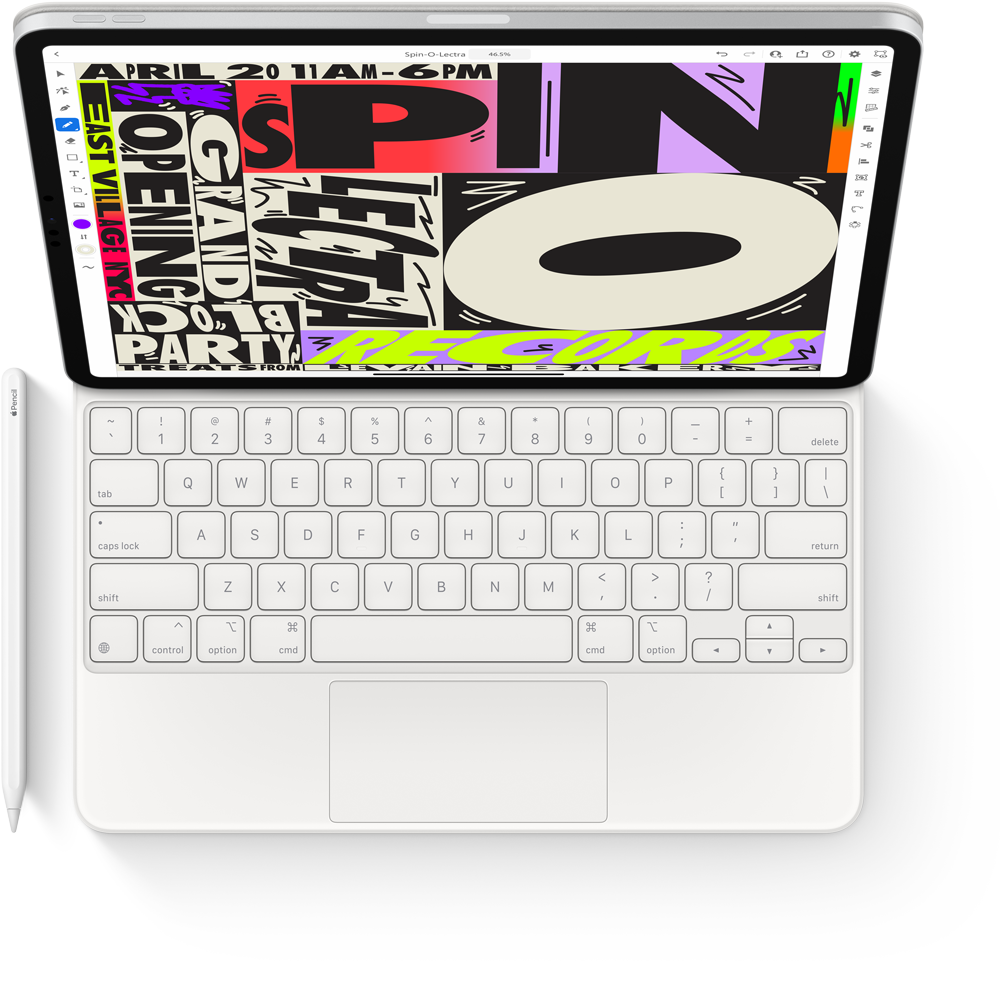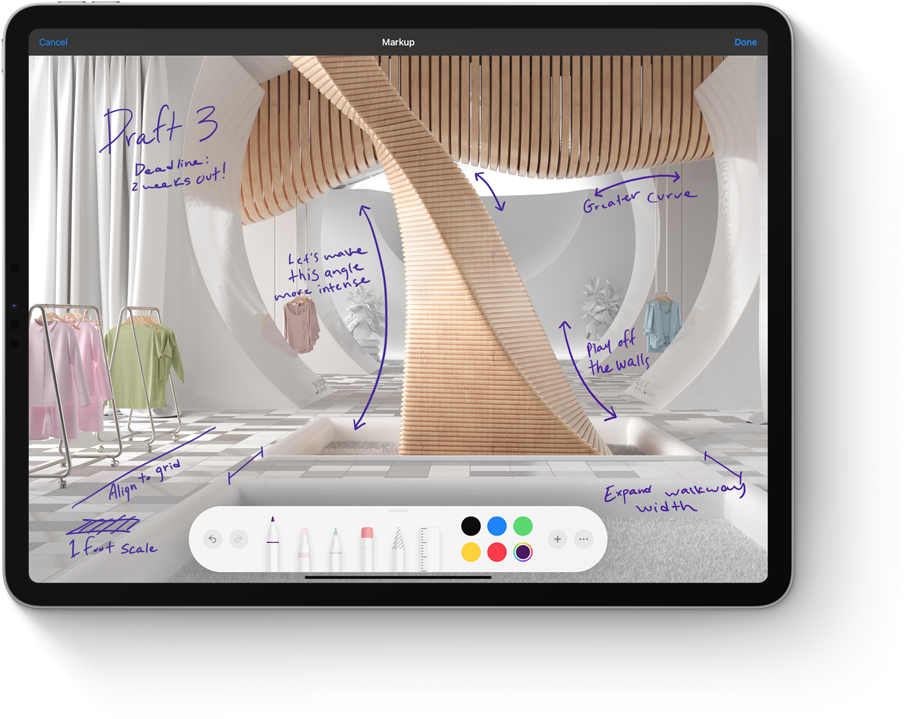 Apple Pencil.
With the power of Apple Pencil, iPad Pro transforms into an immersive drawing canvas and the world's best note‑taking device. It sets the standard for how drawing, marking up documents, and even filling in text fields should feel — intuitive, precise, and magical. Magic Keyboard.
Magic Keyboard features a responsive typing experience and a built‑in trackpad that gives you new ways to work with iPadOS. So you can write your novel, crank out a term paper, or rip through your inbox. And with backlit keys, you can get things done in any light.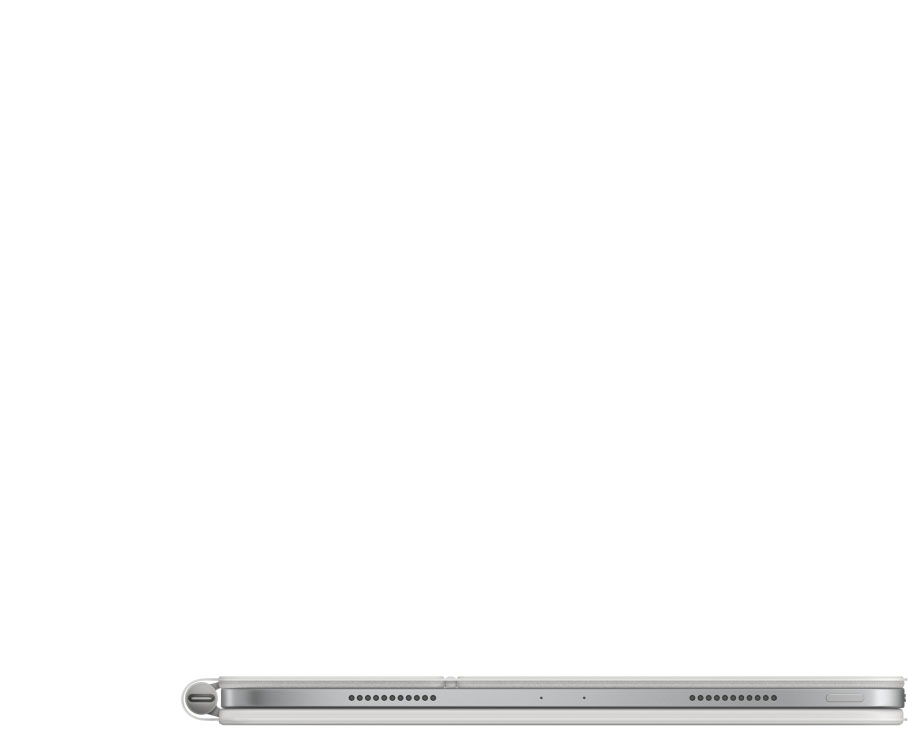 Smooth angle
Now in two colors.
Choose between Black and White in both sizes of Magic Keyboard.
iPadOS. Smooth operating system.
Easy to use. Uniquely iPad.
iPadOS builds on the same powerful foundation as iOS, while offering distinct experiences designed for the capabilities of iPad. Multitask effortlessly with touch or navigate the system with a trackpad. And now you can do even more, like copy and paste handwritten notes as text and write in any text field with Scribble.